Samantha Cagman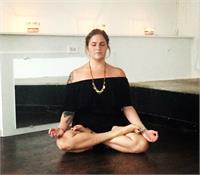 Sam began her practice as a way to regain balance and strength after a severe ankle injury and to aid in coping with the battles of anxiety and insomnia. During her practice, she began to experience a deep connection to not only the body, but to her mind, that inspired her to share this passion with others. . Inspired to teach, she received her 200 hour teacher training from Pure Yoga (NYC). Her teaching styles root themselves in Iyengar and Forrest lineage. Her classes are infused with mindful movement, breath awareness, and flowing sequences that are designed to focus the mind and cultivate balance between strength and flexibility in the body. Instructing from the heart, Sam is dedicated to bringing self-love, self-motivation and self-adoration principles into every class and to making each student feel welcome, comfortable, and safe during her time spent with them on the mat. Samantha is known for her authentic, non-judgmental teaching style, including class themes devoted to Female Empowerment, Self-Love, and Personal Motivation. She hopes to inspire and empower her students during every class, which she believes makes the world just a little bit better each time.
Samantha Cagman instructs the following:
This 60 minute class teaches the foundations of Vinyasa flow yoga through a well-rounded sequence of postures designed to balance the body and mind as well as uplift the spirit, with an emphasis on breath and healthy alignment.

Recommended for new Beginners, open to all.




A soothing, calming practice to nourish body and soul with gentle slow flow, deep stretching and propped restorative postures, this class will nourish every aspect of your being. Soul Stretch & Restore is a great class for all levels of practitioners who enjoy a slower paced class, focusing on increased flexibility and an enhanced state of mind. This class will allow the nervous system to relax and cells to regenerate. As you are guided to let go of both physical and mental tension, you will feel a warm relaxation spread through your body, providing you with clearer focus and better sleep at the end of your long day.

Class is 1 Hour

Available to all levels, Beginners welcome.




Experience your practice from a deeper level during this vinyasa flow practice designed to invigorate, balance and open the energy flow throughout the entire body. There are 7 energy centers in the subtle and physical bodies, known as the chakras. When the chakras are aligned, it allows for greater physical, spiritual, emotional, and mental balance. We will explore these energy centers through movement,mantra, pranayama, and meditation to allow for Sattvic energy flow throughout the body.


Class is 75 minutes

Open to all, Level 1 experience suggested.