Jeffrey Vock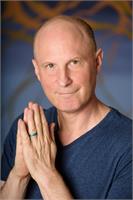 Jeffrey Vock is a professional photographer who decided to celebrate his 30th year of practicing yoga with Sri Dharma Mittra by getting certified to teach Dharma Yoga. His passion is to guide students of any asana level into deep relaxation, pranayama and meditation where they will reap the maximum benefits from this ancient practice.
Jeffrey Vock instructs the following:
A gentle class consisting of basic postures sequenced to stretch, strengthen and condition the body. A great choice for those just coming back to a practice, recovering from injury or discovering yoga for the first time. The class concludes with an extended guided relaxation and an introduction to meditation and balancing breath techniques.

75 minutes. Available to all levels, great for Beginners.