Jeffrey Vock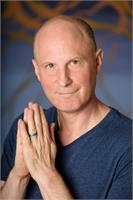 Jeffrey Vock is a professional photographer who decided to celebrate his 30th year of practicing yoga with Sri Dharma Mittra by getting certified to teach Dharma Yoga. His passion is to guide students of any asana level into deep relaxation, pranayama and meditation where they will reap the maximum benefits from this ancient practice.
Jeffrey Vock instructs the following:
This 60 minute class teaches the foundations of Vinyasa flow yoga through a well-rounded sequence of postures designed to balance the body and mind as well as uplift the spirit, with an emphasis on breath and healthy alignment.

Recommended for new Beginners, open to all.




Join us for a FREE Community Yoga class in Sgt. Joseph Anthony Park located at 88 Palisade Ave.

Take yourself outside and into the beauty of this city's heart and soul. Practice vinyasa flow yoga under the trees, let your toes touch the grass and find your practice amongst the energy of our thriving community.

Bring your own mat or towel. Class will be held weather permitting and will be cancelled due to rain or threat of thunderstorms.

Available to all levels, Beginners welcome!




A gentle class consisting of basic postures sequenced to stretch, strengthen and condition the body. A great choice for those just coming back to a practice, recovering from injury or discovering yoga for the first time. The class concludes with an extended guided relaxation and an introduction to meditation and balancing breath techniques.

75 minutes. Available to all levels, great for Beginners.