Ida Rose Kenna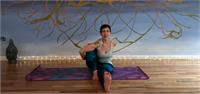 Ida is a 200 hour RYT having trained with the Yoga in The World school of yoga. Ida has practiced yoga and meditated daily for her entire adult life. From the first time she walked into a yoga class, "I found home." Ida is also a licensed Psychotherapist with a strong focus on mindfulness, appealing to one's awareness in the present moment, while calmly acknowledging and accepting one's feelings, thoughts, and movements. Ida's core belief is that we take our yoga off of the mat, and into the world. Yoga is a way of being. Her classes are designed to challenge her students, focus on the breath, and prepare them to sit for meditation. The asana sequences are often guided by the precepts of the Yoga Sutras, and infused with mythical storytelling. Ida's classes will reflect her love, and knowledge of music. You can expect rock and roll, chanting, instrumental, and every type of music imaginable. Ida's intention is to make yoga accessible to all through her own experiences and challenges, meeting each and every student where they are in body, mind and spirit.
Ida Rose Kenna instructs the following:
Sattva is pleased to offer this FREE Community Class, an express 45-minute Vinyasa Flow practice with guided breath and movement available to all levels.




Experience your practice from a deeper level during this vinyasa flow practice designed to invigorate, balance and open the energy flow throughout the entire body. There are 7 energy centers in the subtle and physical bodies, known as the chakras. When the chakras are aligned, it allows for greater physical, spiritual, emotional, and mental balance. We will explore these energy centers through movement,mantra, pranayama, and meditation to allow for Sattvic energy flow throughout the body.


Class is 75 minutes

Open to all, Level 1 experience suggested.