Satya X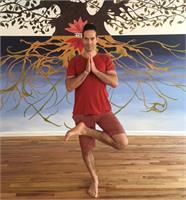 Satya is a rebel yogi who teaches a strong flow that is not simply "fitness yoga" but real-world spirituality, challenging his students physically and encouraging them to explore Who They Are beyond their conditioning--while keeping a sense of humor about it all!
He is an E- RYT 500, having received his 200 hr. training at New York Yoga and his 300 hr. with Babaji Kria Yoga. He has been teaching yoga since 2006 and has been personal training since 1995. He is also a kickboxing instructor who won national and local competitions during his 7-year full-contact Chinese kickboxing career. He is a Reiki Master and has a Master's Degree in Herbology.
Satya X instructs the following:
Experience your practice from a deeper level during this vinyasa flow practice designed to invigorate, balance and open the energy flow throughout the entire body. There are 7 energy centers in the subtle and physical bodies, known as the chakras. When the chakras are aligned, it allows for greater physical, spiritual, emotional, and mental balance. This Level 2 flow moves at a faster pace to build heat, exploring these energy centers through movement,mantra, pranayama, and meditation to allow for Sattvic energy flow throughout the body.

Class is 75 minutes
Open to all, Level 1 experience suggested.