Laurie Goldstein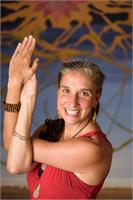 Fueled by her love of the practice and a passion for sharing in the gifts of it, Laurie G has dedicated herself to guiding explorations in yoga since 1999. Her intention infused, organically flowing sessions encourage a deep dive into compassionate presence and cultivate a sense of spaciousness in body, mind and heart. She is known for her resonant voice and ability to distill the wisdom of the teachings in a way that is both accessible and transformational. A certified teacher of ISHTA Yoga, Prenatal Yoga and Radiant Child Yoga, laurieG offers in home sessions, group classes & workshops. Ever a student (and lover) of life, laurieG weaves insights gleaned from her own studies, stumblings & epiphanies into her work on and off the mat. Increasingly her practice and teaching emphasize a slowly flowing and deeply going experience of wholeheartedness & peace.
Laurie Goldstein instructs the following:
Join Sattva teacher Laurie G for this slowly flowing, deeply going, soulful experience combining breath work, artfully sequenced movement & sweet deep relaxation to ground, nourish and inspire. Shakti is the primordial cosmic energy- the divine life force that is the source of all. Laurie's classes are are intuitively guided and designed to tend to the vital life force energy that seeks its expression through each of us. Emerge reminded of that which is most essential feeling relaxed, vibrant & at ease in body, mind and heart.

75 Minutes

Available to all level, Beginners welcome




Join us for the coming together of CIRCLE OF LIGHT-- a special monthly gathering and benefit to nourish, honor and offer of the infinite incandescence of our hearts in an ever-widening circle of compassion and love.

This candle lit, intention drenched session will feature breathwork, soothing movement, guided meditation and sweet deep relaxation. Infused with the healing power of chandra namaskar (lunar salutations), mantra, poetry and the wisdom of sages from various traditions, these inspired and inspiring sessions will root you deeply and relax you completely. A tonic for the nervous system, balm for the heart and an opportunity to come together in community for something greater than yourself, each CIRCLE OF LIGHT will be offered the Friday nearest the full moon and is open to all.


50% of the proceeds will be dedicated to supporting the efforts of a selected non profit organization serving the greater good- primarily with a local focus. Each month, we will highlight the work of the group as well as their current needs and volunteer opportunities in advance of the session. This months session will be donated to Companion Animal Trust (CAT) is a Jersey City based non-profit organization that rescues and re-homes stray cats. CAT promotes a no-kill philosophy of compassion over killing and recognizes that as a community we are responsible for protecting the animals who live here. CAT has an adoption event every Sunday in Jersey City at FUSSY FRIENDS - 148 Newark Avenue from noon-4 (between Grove and Erie Streets) with wonderful kitties for adoption.To address the growth of feral cats living on the street, the Neighborhood Feral Cat Initiative program was founded to provide monthly Trap Neuter Return training workshops to the public. The organization loans traps for free to residents as part of this initiative.

Donation $25

Please pre-register, space is limited.